How to Spruce Up Your Home Cheap
Posted by Kristi Roberts on Wednesday, April 24, 2019 at 8:30 PM
By Kristi Roberts / April 24, 2019
Comment
Ok, you're wanting to sell your home but where to start? I know there are a lot of articles out there that say update your kitchen and bath, new flooring, or exterior paint. While this is all going to help show your home at its best it also is a big investment most people don't want to dive into or just simply don't have the money to sink into their home. These are my top tips for helping your home show its best on a budget.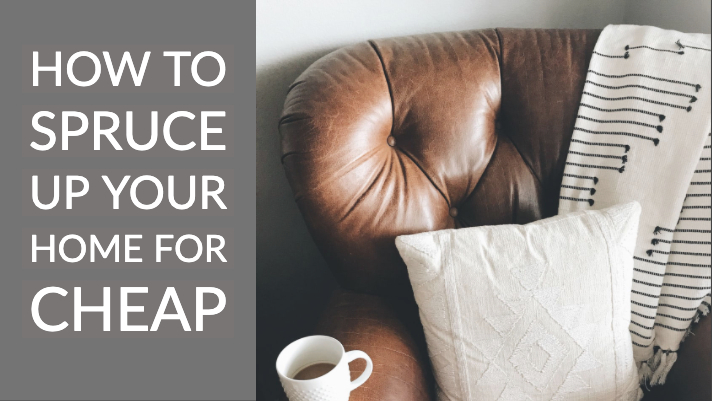 Let there be light
Light is so important! It can change the mood in a room and bring out your home's best features. Dim light can make buyers feel the room is dirty, dingy, and even smaller. Go thru your house and make sure all your lights are working and have bright bulbs in them. Add lamps if you have a room that feels a little dark. Open windows to let that great natural light in. It may seem silly but go to Pinterest or google and look up gorgeous homes you will find a host of pictures of bright homes.
The great outdoors
Your buyers are going to pull up to your house, what will they see? first impressions matter so make sure you go out and look at your house. Does it need a good power wash? Is the front yard looking a little bare? You would be surprised how a little bit of mulch can freshen up a garden bed. Add a pop of color or interest by having some flower pot or some fresh paint to the door. Speaking of doors make sure your door opens easily. If their first interaction with your home is their realtor having to throw a shoulder out trying to get your door to open it sets a bad tone.
What big furniture you have
Ok, that armoire is beautiful but does it fit the room or make it feel a bit small? I suggest to my clients to go to the basics. Go through your house and take out large furniture or clutter out and rent a storage unit or box. With those items out your home will seem bigger and more organized.
Paint like the wind
I know everyone says this but there is a good reason! Fresh paint can make your rooms look clean and a light neutral shade makes it seem bigger and are more palatable for a wide variety of buyers. Paint colors can be hard to pick out so I like going to sites like Pinterest and finding out what the most popular shades are and pick from there.
Bring out your inner neat freak
Cleaning is a pain I know but its critically important. A large number of buyers either can't look past the fact your windows are dirty and you have clothing on the floor and worse some think it reflects on how you have cared for your home. Dust those areas we never seem to have time for, clean your floors (if you ask to have buyers take shoes off then make sure your floors are clean and feel nice to walk on) make sure closets are not overstuffed. Getting a storage unit is great for all the clutter to go into until you move. When you do start showing your home keep a large bin in your car so when last-minute showings pop up you can toss papers, toys, and any clutter in and take it with you.
The nose knows
The Febreze commercial is spot on, you have gone nose blind but bad news the party touring your home has not. I am a proud pet owner and mom of 4 kids so trust me I'm guilty of this but we get desensitized to the smells in our house. Now this works both ways make sure your house smells clean and fresh but not overwhelming with perfumes and strong candles. You may love Lavender but the couple walking through may hate it with an unending passion. Try to air your house out after winter, use light clean smells, and if you have stubborn smells in your fabrics try a mix of vinegar and water. When it is dry you will lose the vinegar smell and hopefully, any unpleasant smells will go with it.
Selling your home is a lot of work but just keep your goal of a new home, new location, and whatever your motivation to move in mind. I hope this helps you feel more prepared to get your home on the market and remember the team at KNE Realty is ready and willing to help you get your house sold.