How To Start A Home Search In 3 Easy steps
Posted by Kristi Roberts on Tuesday, March 19, 2019 at 8:40 PM
By Kristi Roberts / March 19, 2019
Comment
Buying a home can be a confusing process but with a bit of knowledge you can ease your nerves and head down the right track with confidence. With 3 easy steps, you can get started on finding that perfect home!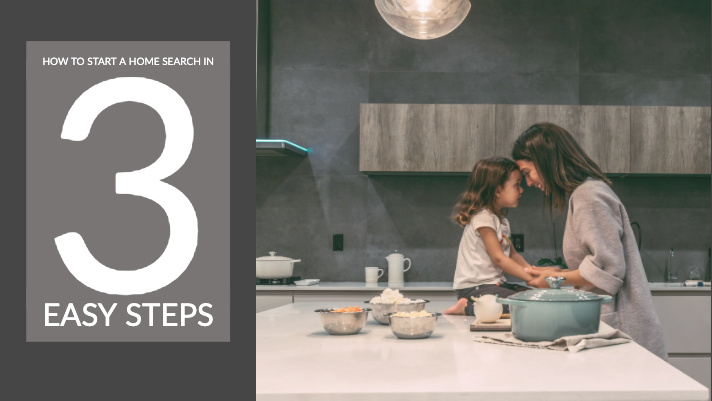 Check your Credit Report

I know, not fun but checking your credit report is a great place to start. Mortgage lenders will carefully pour over your report so you should too. Begin with requesting a copy of your credit report online and make sure there are no errors. If there are you can dispute those errors which could affect your interest rate. Easy to do and could save you thousands. If your credit report is correct then great! Now you know what your score is and that will help you in the next step.
Get pre-approved

Your budget is very important and knowing exactly what you can afford will save you from heartbreaking. It's maddening to find your dream home only to find out it's out of your budget, or worse you lost out to a buyer that came in and put in an offer with a preapproval letter. Knowing your numbers will prove to sellers your serious. Sending an offer with a pre-approved is generally a stronger offer and can be the factor that puts your offer on top. To get an even better idea you can use a mortgage calculator like this one to figure out what your payment will break down to per month. You can also play with how much of a down payment you will make. YOU DO NOT NEED 20% to buy a home, some loans don't require any down payment! This being said it is nice to see what a down payment can do to your monthly bill. The higher the down payment the lower the payment. Pre-approval is a pretty painless process. Find a good mortgage broker or loan officer and they will guide you through your options. They will run your credit report, ask some questions about your finances and bam pre-approved. Don't be afraid to ask questions you may have about improving your credit or what programs for first home buyers may be available to you. There are also payment assistance programs and down payment loans. Click here for information on some of these programs. This is all information that can really affect your borrowing capacity so don't be afraid to ask your questions. Shopping for a mortgage is like shopping for a car. It pays to compare your options. Mortgage and fees such as closing cost and discount points can be very different for each lender. Some worry about their credit being pulled multiple times but generally as long as it is being pulled for the same reason within 30 days of each other it will only dig your credit once, so shop around.
*Mortgage discount points are fees you pay upfront to reduce your mortgage interest rate. Interest rate savings can add up to a lot of money over the life of a mortgage, and discount points are one way to gain those rate savings if you're in the right position to purchase them.
*Closing costs are fees associated with your home purchase that are paid at the closing of a real estate transaction.
Decide what makes a house your home

Ok great, we got through all the big financial tidbits now to the fun part. Finding your new home is an exciting time but it can turn to a frustrating process if you don't think about what you REALLY want. I like to ask my clients what are your top five things you want in your new home? Do you need a yard, want turnkey, big garage, updated kitchen? To many times we get caught up with all the must-haves and we are ruling out homes that maybe be perfect for you over minor details. Stick to your top 5 and get the home you will love but try to be open-minded when it comes to the little stuff. Of course, your list may change as you shop for homes. The important thing is to be open and honest with your agent. If you were open to doing some renovation but as you look decided hmmm, I don't think I will have time for all this work, speak up! If you have a good agent they will listen and be able to get you to that perfect home.
I hope this helps you get your feet wet into the homebuying process and if you're a first-time home buyer or buying your 10th home give you a refresh on the process. Happy Hunting and remember if you need a realtor to guide you home I'd love to help you, call me today!