Who's eligible for a VA loan?
Before we list the service eligibility requirements for the VA loan, we must note that being eligible does not guarantee you will get one. As with all home loans, your credit score, credit history, job status, income and other factors must be weighed so that a lender is confident you can and will pay back the loan. With that out of the way, let's get started.
NOTE: Post-WWII, Post-Korean and Post-Vietnam are considered "Peacetime" periods and WWII, Korean", Vietnam, and Gulf War are considered "Wartime", according to the VA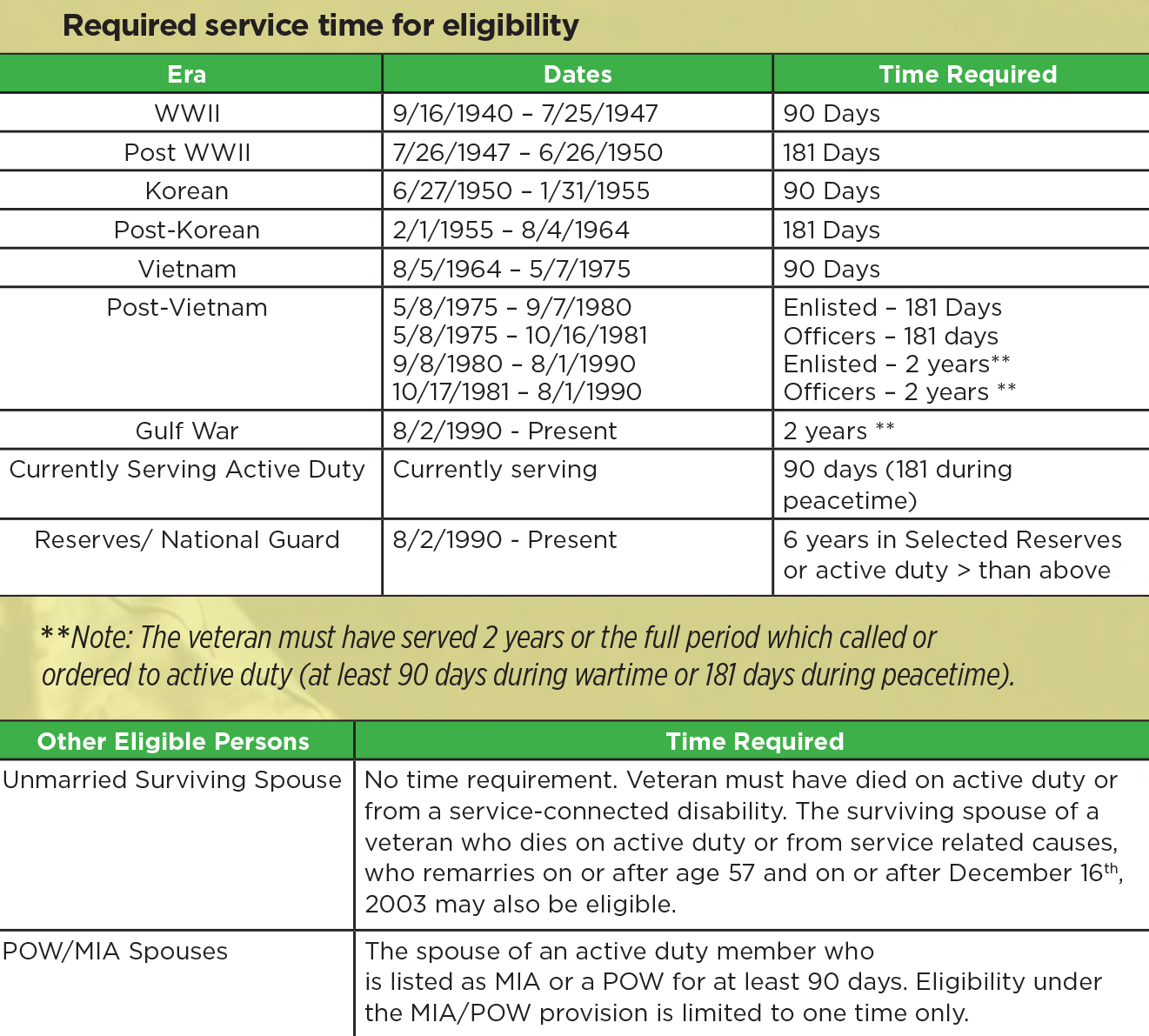 For those confused by the chart, we will lay it out for you.
Veterans
Veterans are eligible if they served on active duty in the Army, Navy, Air Force, Marine Corps, or Coast Guard for at least 90 days during the wartime periods of WWII, The Korean War, or Vietnam War (see chart for specific dates).
Veterans are eligible if they served on active duty in the Army, Navy, Air Force, Marine Corps, or Coast Guard for at least 181 days during the peacetime periods of "Post WWII" or "Post-Korean" periods (see chart for specific dates).
The Post-Vietnam section looks confusing, but we will try and make it easier to understand
Veterans whose service began after Sept. 7, 1980, or who entered service as an officer after Oct. 16, 1981, must have completed:
24 consecutive months (2 years) of active duty, orThe full period they were called or ordered to active duty, as long as it was not less than 90 days during wartime or 181 days during peacetime.
Currently Serving
Military members who are currently on active duty are eligible if they have served for at least 90 days (or 181 during peacetime).
Reserves or National Guard
Guard and Reserve veterans may have VA loan eligibity if they have six years of service or served at least 90 consecutive days on active duty.
Surviving Spouses
A surviving spouse of a veteran who didn't remarry is eligible if the veteran died while on active duty or from a disability related to his service. That being said, a spouse who remarried upon or after turning 57 years old on or after Dec. 16, 2003, may be eligible.
The spouse of an active duty member who is listed as missing in action (MIA) or a prisoner of war (POW) for at least 90 days is eligible for a one-time use of the VA Home Loan.
Surviving spouses who got a VA loan with the veteran before his or her death can obtain a VA Interest Rate Reduction Refinance Loan.
Other Eligible Members
A person may be eligible if he or she was or is a:
Public Health Service Official
Military Service Academy Cadet
Merchant Seaman
National Oceanic and Atmospheric Administration Official
Certain U.S. citizen who served in the armed forces of a U.S. ally during World War II
Exceptions
If the veteran served in active duty for at least 90 days during wartime or 181 days during peacetime before being discharged, he or she may be eligible, as long as the discharge was not dishonorable. It should be noted that the VA will look further into applications from military members were discharged.
Since there are a number of exceptions for the VA Home Loan, we recommend that you contact one of our VA savvy agents to figure out whether or not you are eligible.
Certificate of Eligibility (COE)
The Certificate of Eligibility is an official document that proves you are eligible for a VA loan. Although it is required, you don't have to have it in hand to start the VA Loan process. If you are looking to buy a home in Michigan, we suggest that you contact one of our VA-knowledgeable agents to help you get your COE. You can, however, receive one online by going to ebenefits.va.gov
Veterans who have found a trusted VA lender can ask their loan officer to request their COE electronically as well.
Keep in mind, a COE does not guarantee you a VA Loan. It is an important step in the process, but an applicant must also be prequalified, pre-approved and officially approved by the lender before he or she can purchase a home with a VA loan. We know it sounds like a daunting process, but we at KNE Realty will guide you every step of the way so that you are not going into situations blindly.

Trust us, VA Loans is what we do!